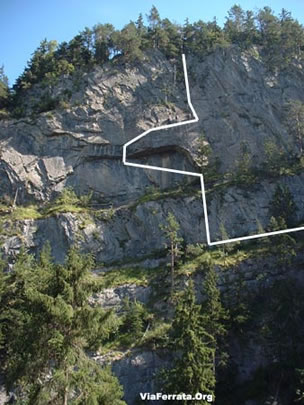 | | | | |
| --- | --- | --- | --- |
| Foot Bridge | Monkey Bridge | Ladder | Zip Line |
| 2 | 0 | 0 | 0 |
Characteristics
Mainly made up of traversing sections, often close to waterfalls or rapids
ViaFerrata.Org – tips
Since the finish of the via ferrata is some distance from the start, you might want to leave a car – or a mountain bike – ready for getting back to the village. Incidentally, the possibilities for mountain biking in and around the valley are excellent.
Level
Strength

Part 1: 1
Part 2: 2

Vertigo

Part 1: 1
Part 2: 2

Type
Mountain
Part 1: 3
Part 2: 2
Technique

1
Overall
Part 1: Beginner
Par 2: Difficult
Information
Tourisme Office Champéry (024) 479.20.20. Outside Switzerland ++41 24 479.20.20
Length and Altitude

Viaferrata lenght: 460 m.
Drop: 125 m.
Start of the Via ferraat: 1'126 m.
When can you climb

May - October (and during some winter months if there is no snow
Times
Approach: env 30 minutes,
Via Ferrata 30-45 minutes
GPS location

N 46'10.630
E 006'53.013

From Geneva, take the highway via Lausanne towards Martigny. Exit at St-Triphon for Monthey.
From Monthey centre, take the mountain road as far as Troistorrents, then to village of Champéry.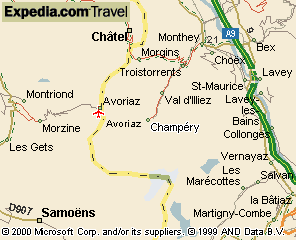 By Train

Main line train to Aigle, then AOMC line to Champéry. For schedules and fares, enquire CFF.
Start Climbing

Option 1
From the train and cablecar station go towards the tennis center and there, at the Paladium, descend the Chemin du Tavis and head for the river (car park near a small wooden bridge). Walk over the bridge, to where the path to the via ferrata goes up through the trees. Direction sign on the left.

Option 2
Go up the road towards Grand-Paradis. Just before Grand Paradis, 200 m after the stone bridge and before another small bridge, turn left. Do not cross the river, but go up along its bank to a road coming in from the left. Follow this road as far as another small bridge crossing a stream. The path to the via ferrata descends steeply to the right, from a point just after this bridge


Via Ferrata
A bridge and a short walk give an easy start, before the first 'real' via ferrata section. Then comes a second bridge (more like the 'real thing') followed by a short sharp climb to an exciting traverse only a few metres above the waterfall.

Now an easy walk along a ledge – look out for the bear !

All that was just for starters. The next climb of 4 m is strenuous enough for most, but it's worth it – the rest is sensational!
And only too soon, you're at the end. Feel like a second go?

Lodging - Hotel - Restaurant
Camping in Champéry, in the Grand Paradis. Tel: (024) 479 19 90 or (024) 479 14 44.
Otuside Switzerland: ++41.24.479.19.90 or ++41.24.479.14 44.

Pics